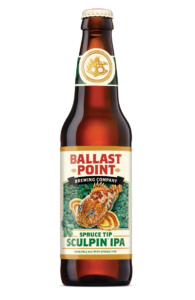 Ballast Point Brewing Co. in San Diego, California has announced the release of a new Sculpin IPA variant.
Spruce Tip Sculpin joins the likes of Grapefruit Sculpin, Habanero Sculpin, Pineapple Sculpin, Unfiltered Sculpin and Aloha Sculpin to the brewery's stellar original IPA.
The beer is available now wherever Ballast Point's offerings are sold. The full release from the brewery is below.
---
SAN DIEGO — Just in time for fall, Ballast Point, one of the nation's leading craft breweries, introduces Spruce Tip Sculpin IPA – a seasonal twist on its flagship IPA. The limited-release beer will be available nationally beginning October 1.
Sculpin's complexity shines in this Spruce Tip edition. The addition of Oregon spruce tips, harvested from family farms, brings flavors of pine, red berry, lemon and wine grapes, which complement Sculpin's citrusy hop profile. On the nose, the spruce tips contribute a unique piney, citrusy and woody character. A great brew for the holidays and beyond, the seven percent ABV Spruce Tip Sculpin is a standout in a forest of IPAs.
Spruce Tip Sculpin IPA was inspired by Ballast Point's "Roots to Boots" R&D program, which empowers employees to brew experimental beers. After growing up enjoying his aunt's teas made with spruce tips, an employee in the program was motivated to add the spruce buds to an IPA he was creating. The beer yielded such a unique and delicious flavor that the brewers at Ballast Point knew they had to continue experimenting with spruce tips.
"When we added spruce tips to Sculpin, we loved how the pine and berry notes accentuated the aromas and flavors already found in the beer. We thought it would make the perfect fall and holiday IPA," said James Murray, vice president of brewing at Ballast Point. "Experimentation has always been in our DNA but the fact that the newest member of the Sculpin family was born from our 'Roots to Boots' program speaks volumes about our culture of innovation."
In a quest to bring a spruce-infused IPA to the market, Ballast Point called on San Diego-based Specialty Produce to source spruce tips from Oregon. The local produce company has sourced fruits, vegetables, and herbs for Ballast Point for more than ten years and shares the brewery's commitment to quality.
"Specialty Produce thinks about their sourcing in the same way we think about barley and hops. Quality always comes first," said Murray.
Spruce Tip Sculpin comes off the heels of Ballast Point's recent spring/summer seasonal release, Aloha Sculpin. The original Sculpin IPA launched in 2005 and has since become the hallmark of the west coast-style IPA, winning gold medals at the World Beer Cup (2010, 2014) and European Beer Star (2010, 2011). The Sculpin family now includes Grapefruit, Aloha and now Spruce Tip.
Spruce Tip Sculpin IPA is a fall/winter seasonal release and will be available nationally on draft and in six-pack bottles through February.
For more information, visit www.BallastPoint.com.
About Ballast Point Brewing Company
Started in 1996 by a small group of home brewers in San Diego, Ballast Point has a 20-plus-year history of supporting the art of home brewing and developing high-quality, innovative and award-winning beer. Ballast Point has become one of the nation's leading craft breweries by exploring new tastes and techniques to create the perfect balance of taste and aroma. At Ballast Point, a culture of quality persists from selection of raw materials to the brewing process to the finished product and beyond. From developing a proprietary yeast for our amber ale to creating a breakthrough gold medal-winning IPA, Ballast Point is dedicated to the craft of brewing beers for all to enjoy.