Whose day is it this Tuesday?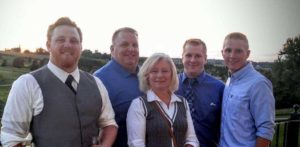 It's Mark's Day for Whose Day Tuesday!
What is your job title?    
General Sales Manager
When did you start at Schott Distributing.
April, 1987
What is your favorite part of your job?  
The competition of trying to dominate, and now that I am old(er), seeing a young person on our team develop into a great team member.
What is your go-to beer and why?  
That's a tough question we have some great brewer partners…I will probably say Budweiser, because it's where it all started for me.
If you could time travel, when would you go?
I wouldn't…life is all about the journey and I'm pretty happy where I'm at.
What personality trait has gotten you the most in trouble?
My aggressive personality, and my sarcasm that is unending.
What is your favorite thing to do when not at work?
It goes without saying, spending time with my family, they are my everything…Oh yeah, I love to laugh.
Name three songs that would be on your "Life Soundtrack"
When I'm with you by Sheriff- for my wife
Life's a dance
I did it my way
 Who would play you in a movie of your life?
Probably someone fat, sexy, and funny…Peter Griffin from the Family Guy would be a good choice.
What's your life's motto? 
Live everyday like it's your last, tomorrow is not a promise.
Mark is one of our fearless leaders here at Schott Distributing. He is always on the go, but always has time to listen to employees. If you don't understand cliches or sarcasm, then move along as you will not understand a word Mark is saying. 🙂  He may have "did it my way" but it has gotten him far in is career at Schott and we appreciate him!
CHEERS MARK!