Whose Day is it this Tuesday?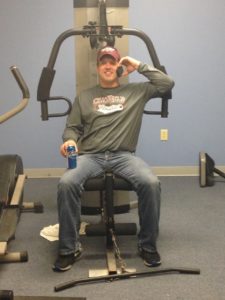 It's JD's day for Whose Day Tuesday!
When did you start at Schott Distributing?   May 1999
What is your job title?     Team Leader
What is your favorite part of your job?   Lunch hour.    Also have had the chance to work with a lot of great people in the beer business, co-workers and accounts.  The sampling is always nice too.
What is your go-to beer and why?    Bud Lt.  Just can't believe they can make it taste so good, every time I sit down and have one.
What is your favorite thing to do when not at work?  Watching my kids sporting events, hanging with friends and family, hunting and snowmobiling.
Hot dish or casserole?   Hot Dish
You're stranded on a deserted island, what 3 things do you have?    Unlimited Bud Lt, Doritos, and Top the Tator.
If you were a crayon, what color would you be?   Blue
Which way does your toilet paper hang on the wall – over or under?   Over
Which Superpower would you choose?     Healing
What's your life's motto?     Work hard, play hard
When JD isn't working out with his beer, he is always busy doing a phenomenal job being a team lead to our sales team. JD brings so much to the table (or bench) for Schott Distributing and we are lucky to have him!
Cheers JD!