Whose Day is it this Tuesday?!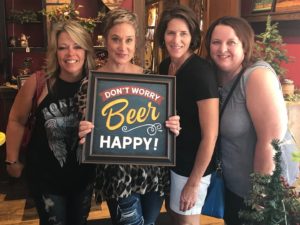 It's Shannon Jeffries' day for Whose Day Tuesday!
Here's some fun facts about Shannon!
When did you start at Schott Distributing?
Started full time in August 2003 and also worked a couple summers while in college at Winona State.
What is your job title? Describe in 3 words
Administrative Assistant
What is your favorite part of your job?
All my great co-workers!!!
What is your go-to beer and why?
Not a big beer drinker but I do love the wines from Four Daughters we sell and also any of the flavored Smirnoff
What is your favorite thing to do when not at work? 
Watch my son run cross country and play Basketball and watch my daughter play Volleyball.  Spend time with my friends when I can.
Who would you most like to swap places with for the day? Famous or not. 
Any of the salesmen…I think I would make a great sales lady!!!! 
You're stranded on a deserted island, what 3 things do you have?
Great friends, beverages and snacks.  Probably a couple of my cats too!!!
What's in your coffee?
Don't do coffee only Iced Caramel Chai from Cabin Coffee in St. Charles!!!!
**Shannon is the first friendly face you see when you come to Schott Distributing!! You'll find her right at the front at her abnormally large desk getting stuff done!
Editors note:
Shannon was being modest about when she started at Schott – she has always been a Schott lady!
Cheers Shannon!