A creative partnership between Mikkeller and AleSmith Brewing Company, here's a profile of the (once) gypsy brewer Mikkel Borg Bjergsø.

World-traveler Mikkel Borg Bjergsø built a different pathway to brewing success, partnering with creative brewers around the globe, rather than building his own brewhouse, and keeping "beer geeks" happy with a non-stop supply of one-off releases. But recently Mikkel and AleSmith Brewing Company's Owner and Brewmaster Peter Zien announced the opening of a Mikkeller brewery in San Diego in the current home of AleSmith Brewing Co. Instead of traveling to brew with others, it seems Mikkel will be inviting them to come brew with him. Says Alex Barbiere, marketing specialist at AleSmith, "Mikkeller and AleSmith Brewing Co. have officially joined forces to transform the original AleSmith brewery location into one glorious, creative workshop. These two legendary brewers will formulate entirely new recipes with some of the world's finest breweries. Expect to see the liquid results of this creative partnership summer 2015!"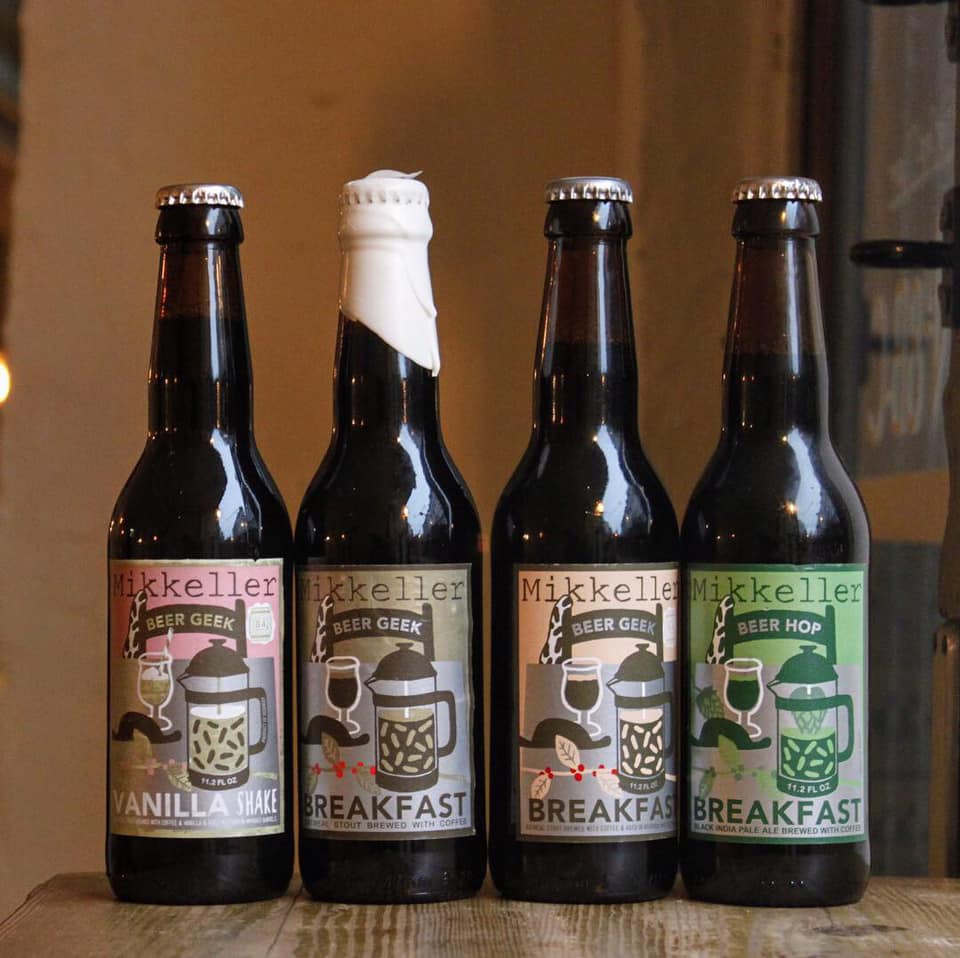 Mikkel's reputation generally proceeds him, but for those unfamiliar, he's a former high school chemistry teacher from Denmark who used to teach his students how to brew in the school kitchen. He began these lessons in 2003, and by 2006 when he launched Mikkeller, it was named Brewery of The Year by the Association of Danish Beer Enthusiasts.
Mikkel's journey has been fast and furious, just like he is. He began homebrewing out of a desire for better beer than he could find locally, and when he decided to turn his hobby into a business, it seemed too expensive of an endeavor. He didn't want to take out loans, nor did he want to compromise the quality of his beer to pay for those loans.
So instead, he made friends with brewers across the globe and used their breweries to brew his beer. Since he launched Mikkeller, he has brewed in more than forty countries with internationally acclaimed breweries such as Three Floyds Brewing in Chicago, de Stuise Brouwers in Belgium, and Alesmith Brewing Company in San Diego. Although the decision not to open a brewery of his own was financially motivated, Mikkel stuck with that decision (until now) because he wanted to learn from other brewers.
"I could take advantage of the forces at each brewery," says Mikkel, who chose the breweries he worked with out of respect for their brewers. "When I brew Mikkeller beers, I choose a brewery based on what they brew best," Mikkel told Beer West Magazine in 2012. "I mean, if a brewery makes excellent stouts, why not brew my stouts there?"
One of Mikkeller's best-known stouts is the beer that put him on the map. Beer Geek Breakfast is an imperial oatmeal stout brewed with French-press coffee. But it's not just any kind of coffee. Beer Geek Breakfast contains Civet Coffee, a Vietnamese delicacy for which weasels ingest and digest the coffee beans before people consume them. "I got the idea for the coffee when I tasted it the first time. The low bitterness is perfect for beer brewing," Mikkel says.
Meet other breakout brewers and get practical advice and tips for getting the most out of your homebrew in every issue of Craft Beer & Brewing Magazine®. Subscribe today.
What began as an experiment to brew stout with a controversial, even taboo, ingredient turned into a movement. Beer Geek Breakfast received the best notes at an international ratebeer.com forum, and the next thing Mikkel knew he was entering beer competitions and meeting distributors all around the world.
"We fail to slow down," the Mikkeller website says. "We are always thinking in new ways and ideas, always working on the next project. Sometimes it's hard for people to keep up."
Mikkel's homebrewing came full circle in March 2013 when he and his two homebrew students, Tore Gynther and Tobias Emil Jensen, opened Mikkeller & Friends in Copenhagen, a 40-tap bar with an attached bottle shop. The new bar has an exclusive cooperation with Chicago's 3 Floyds, making it the only place outside of the United States that serves 3 Floyds' draught beer.
Still forging ahead, Mikkeller also launched a line of dry-hopped small-batch spirits. Included in the brand are Dry Hop Simcoe Vodka, as well as three versions of the distilled Mikkeller Black imperial stout: aged in a rum cask, aged in a bourbon cask, and aged in Orloroso wine barrels.
"Yeah, a lot of stuff going on here," Mikkel wrote in a quick, almost cryptic email. Undoubtedly he's got an inbox full of mail from folks across the globe to keep up with. "On a daily basis, I mostly work at the office communicating with the breweries where we brew our beer, making sure labels are done on time, checking up on accountings, and corresponding with customers," he wrote on his website. "[I also] clean the espresso machine, take out the trash, pay the bills. And then sometimes I have time for brewing."
We all hope that with this new partnership with AleSmith Brewing, he'll have more time for creative brewing.
Signature Beers
Beer Geek Breakfast (stout) is the most well-known Mikkeller beer, but their single hops series is a fascinating way to develop a sense for the flavor of different hops varieties.
Availability
Currently, Mikkeller beer is available in forty countries. It's on sale at liquor stores in Alabama, California, Colorado, Connecticut, Florida, Illinois, Louisiana, Maryland, Minnesota, New York, North Carolina, Ohio, Oregon, Pennsylvania, Texas, Washington, Wisconsin, Vermont, and Washington, D.C.